What's Left of Me Is Yours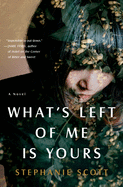 Based on a 2010 trial in Tokyo, British and Singaporean author Stephanie Scott's quietly passionate debut crime novel, What's Left of Me Is Yours, examines a fatal affair between a married woman and the man hired by her husband to seduce her.
Twenty years after her mother's death, Japanese law school grad Sumiko Sarashima finds out her grandfather Yoshi "told me every story but my own." Yoshi maintained that her mother, Rina, died in a car crash when Sumiko was seven. A chance phone call from the Ministry of Justice leads Sumiko to the real story: that a professional break-up agent, Kaitarō Nakamura, approached Rina in order to obtain compromising photos so Sumiko's father could divorce her. Instead, Kaitarō and Rina fell in love. Then he killed her just as they began their new life together, a life Sumiko would have shared.
Excavating the past through recorded interviews and trial documents, Sumiko begins to unravel what roles her father, her grandfather and the Japanese legal system played in Rina's death. She also questions whether she should sign a contract with a corporate law firm, as Yoshi prefers, or find her own path.
Scott's sumptuous descriptions of locations and meals beguile, and her take on the tabloid-inspired story is subtle, tender and humane. What's Left of Me Is Yours is a delicate dissection of deception's impact on relationships, and it provides a window into the Japanese legal system's effect on women. Kaitarō and Rina share such a deep connection that violence between them seems impossible. Readers will find much to contemplate in this tragedy. --Jaclyn Fulwood, blogger at Infinite Reads