Tokyo Ueno Station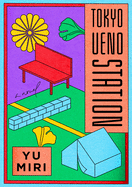 Tokyo Ueno Station, Yu Miri's second novel translated into English (after Gold Rush), possesses a strange beauty that is both lyrical and stark. In it, a misfortunate ghost revisits his life as he is confined in the afterlife to one of Tokyo's busiest train stations.
Born in rural Fukushima prefecture, Kazu shared two remarkable coincidences with Japan's Imperial family: he was born the same day as Emperor Akihito, and both their sons were born on the same day. Rather than being auspicious, it only highlights how different their lives are. Unable to find work near his family, Kazu takes jobs wherever he can, including grueling work preparing for the 1964 Olympics. Then tragedy strikes--Kazu's son dies at 21. Devastated by the loss of the son he barely knew and haunted by his mother's words--"You never did have any luck, did you?"--an adrift Kazu ends up homeless in Ueno Station, along with others who were casualties of a faltering economy during Japan's Lost Decade.
How Kazu became a ghost--is it punishment for his life or his death?--is the mystery at the heart of the novel. Kazu spends his days listening to dull conversations of passers-by and being captive to the choices he made in life. "It was nothing as sweet as nostalgia or a longing for bygone days," he says to himself, "just a constant absence from the present, an anger toward the future."
The novel succeeds as both the story of a life of an ordinary man and an indictment of a prosperous nation struggling with its past and present. Brief but affecting, Tokyo Ueno Station will linger with the reader like a ghost. --Frank Brasile, librarian