Party of Two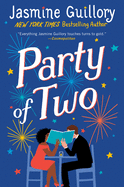 Jasmine Guillory (The Proposal, The Wedding Party) captures that perfect romantic comedy vibe in Party of Two, the fifth in a series that began with The Wedding Date. Olivia Monroe, a successful lawyer who has recently relocated from New York City to Los Angeles, assumes that the cute, vaguely familiar man she meets in a hotel bar must be a minor actor of some sort. They have a nice, flirty evening, then Olivia goes her own way--only to realize later that the attractive man was Max Powell, California's newest U.S. senator.
Olivia has no interest in dating a privileged white man, especially one in politics, where she, a curvy black woman, could be a liability. But Max is charming, funny and remarkably down-to-earth. Also, after they reconnect, he sweetly sends a chocolate cake to her law office, which is a gesture Olivia can't resist. As their connection develops, Olivia is forced to admit she has feelings for Max. But whether she can handle the publicity that follows after making those feelings public is a completely different matter.
With her trademark wit, Guillory has created another strong, smart woman whose struggle to balance her personal life with her potential public image is immensely sympathetic. Max and Olivia's relationship is sweet and real, but so are the problems they face. Guillory's nuanced exploration of their biracial relationship is excellent, as are her lyrical descriptions of the various desserts eaten. Fans of Julie James or Alyssa Cole are sure to enjoy Party of Two. --Jessica Howard, bookseller at Bookmans, Tucson, Ariz.