I'll Be the One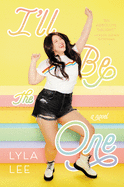 Helmed by director Nahnatchka Khan (Netflix's Always Be My Maybe), an HBO Max adaptation of Lyla Lee's I'll Be the One was announced six months prior to the book's publication date. Before Hollywood hijacks your imagination, though, get to know Skye off-screen in this delectable YA debut.
Korean American Shin Haneul--aka Skye Shin ("haneul" means 'sky' in Korean)--is a 16-year-old powerhouse dancer and singer, primed to make her dreams come true on You're My Shining Star, LA's newest K-pop "competition survival show." Though her mother insists "fat girls can't dance," she does begrudgingly admit Skye could be the Korean Adele. For Skye, fat is "just an adjective to describe our bodies." After years of being shamed, Skye knows she's "going to make the entire world see that [she's] beautiful and powerful just the way [she is]."
Skye may be ready to be her "own hero," but the haters are relentless. After she makes the cut for both dancing and singing, one of Star's judges invents rules to derail Skye's successes. Other contestants repeatedly disrespect her. But international celebrity model Henry Cho, who hopes the competition might be an antidote for stage fright, could be Skye's most devoted fan.
Lee, creator of the Mindy Kim chapter book series (the tween gets a lively cameo here), effortlessly ages up, confronting standards of beauty, the challenges of relentless social media, homophobia, racism, culture clashes and multigenerational divides. Issues are plenty, but Lee never loses sight of the "entertainment" requirement of the entertainment industry, ensuring plenty of gleeful cheer for audiences throughout. --Terry Hong, Smithsonian BookDragon