Empty: A Memoir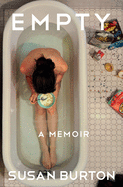 "If you wait until you understand everything, you never say anything at all," Susan Burton reminds herself near the end of Empty, capturing the idea that makes her probing and forthright memoir about her adolescent struggle with eating disorders so remarkable.
An editor at This American Life, Burton traces how her need to control her body by not eating, and later by eating, consumed her adolescence. At nine, she went on her first diet, experiencing "the power of renunciation." At 15, her "preoccupation with thinness became a pathology" as she sought both physical and emotional results--to feel "light, relieved, unburdened." While she recognized this as anorexia, her subsequent struggle with binge eating, which began in high school and continued into college, lacked medical recognition--a name or pathology--at the time (the '80s and '90s).
Aside from ordinary disruptions such as her parents' divorce and an ensuing move, Burton contrasts an outwardly normal, even enviable, life with private torment. Always popular, athletic and successful in school, she recalls in striking detail the self-deprivation, binging and emotional turmoil that affected everything--her thinking, actions and relationships.
Burton states near the end, "This isn't a message book," and that feels true in that she doesn't extrapolate an all-encompassing truth about eating disorders or recovery from her experience. However, Empty is not without more organic lessons, a resounding one being that it's not necessary to be on the other side of adversity, fully recovered, to talk about it in a meaningful and absolutely worthwhile way. --Sylvia Al-Mateen, freelance reviewer and editor