The Proudest Blue: A Story of Hijab and Family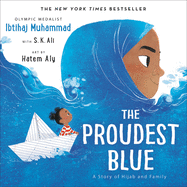 Olympic fencing medalist Ibtihaj Muhammad's debut picture book is the story of two sisters, Faizah and Asiya, and "the most beautiful" blue hijab. Faizah, the younger sister, narrates how the first day of the school year corresponds with Asiya wearing hijab for the first time. Faizah's pride and happiness for Asiya shine in Hatem Aly's vibrant, imaginative digital illustrations--"I'm walking with a princess," Faizah thinks. When bullies make fun of Asiya, Faizah doesn't understand, seeing the bright blue of Asiya's hijab as a scarf but also "like the ocean waving to the sky... always there, strong and friendly."
The Proudest Blue shows how the wearing of hijab is something common for many ("special and regular") that should not be seen as strange or scary. The final spread shows Faizah and Asiya unbothered by the bullying, their bond resilient like the connection between the ocean and the sky, "no line between them." --Clarissa Hadge, bookstore manager, Trident Booksellers & Cafe, Boston, Mass.