My Cat Looks Like My Dad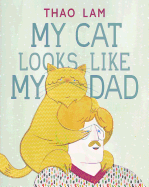 Author-illustrator Thao Lam (Wallpaper) celebrates the human-animal bond in a beguiling cut-paper collage picture book with an unspoken mystery that leads to a sneakily funny ending.
Despite the difference in species, the unidentified narrator's dad and cat have a lot in common: both love sardines and belly rubs, fear heights and "never replace the toilet paper roll." The narrator watches the man-cat duo as they do morning stretches, run from a skunk and sing at the piano. Lam's illustrations broadcast a groovy late-1970s vibe with mustard-colored and floral-patterned clothing and upholstery, not to mention Dad's oversize lapels, floppy hair and luxuriant mustache.
The enchanting surprise reveal of the narrator's identity at story's end might induce giggles in its preschool audience, and even savvy readers are unlikely to guess the joke. The humor plus the comforting message that "family is what you make it" is likely to solidify My Cat Looks Like My Dad as a new favorite. --Jaclyn Fulwood, youth services manager at Main Branch, Dayton Metro Library