The Year We Fell from Space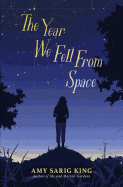 Amy Sarig King's (Me and Marvin Gardens) second middle-grade title explores especially mature subjects--infidelity, parental missteps, mental illness, genetic inheritance, violent triggers--with effective, age-appropriate awareness. On January 18, 2019, "everything changed" in the Johanson home. While 12-year-old Liberty and her nine-year-old sister, Jilly, went out for dinner and ice cream with their mother's friend, their father left. "Dad is a good guy with a bad disease" and, for now, "he needs some time to figure things out." His departure, according to Liberty, was "how it started, our fall from space." Although Liberty "couldn't remember a time when they weren't fighting," her parents' separation, now that it's really happened, provokes sorrow, anger and jarring logistical challenges.
Despite his promises of "you'll still see me all the time," 86 days pass before Liberty and Jilly share an awkward reunion with Dad. He's noticeably thinner, wearing cologne and has lipsticked dirty glasses in his kitchen sink. Meanwhile, Mom's moving on with her "divorce action station"; Jilly's turned agoraphobic except for school; and Liberty, who is something of a stargazing expert, has started talking to a meteorite she found out in the fields. Over the next 10 months, communication, compromises and readjustments will need to happen to realign the family's disjointed, frayed connections.
The Year We Fell from Space is a reminder that failed adult relationships have resonating impacts on children: "Parents are weird to think they can hide yelling from people in their own house," Liberty wisely comments. As her family implodes, King shows the many ways to ask for, find and receive help as Liberty learns to deal with and appreciate what will become her brave new world. --Terry Hong, Smithsonian BookDragon