The Poison Eaters: Fighting Danger and Fraud in Our Food and Drugs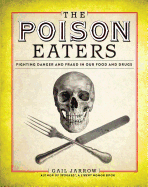 Before there were regulations and oversight for food and drug manufacturing in the United States, greedy corporations often made monstrous adulterations to products they presented as fresh and safe for consumption. Tonics and potions were also peddled to unwitting consumers with promises of cures for everything as minor as headaches or as massive as cancer. The results (and products themselves) rarely matched the claims. One man, a doctor and chemist, began research into these unscrupulous practices and made it his life's work to protect American consumers. In The Poison Eaters, Sibert Medal honoree Gail Jarrow (Spooked!) engages young readers with the story of Harvey Washington Wiley and his dogged campaign for safe food and drugs; a campaign that would ultimately result in the creation of the Food and Drug Administration.
Jarrow's gripping narrative of Wiley's life draws parallels between the roadblocks he encountered with current issues readers should easily recognize. For example, companies threatened by Wiley's campaign for a pure food law blackmailed those they advertised with, prompting them to support a rejection of the food law: "the company would cancel its advertising contract if any laws--state or national--were passed that restricted the proprietary medicine business." Jarrow further entices middle-graders and young adults with gruesome details and images (such as malformed body parts) and old product ads that are sure to pique readers' interest.
Startling, informative and fascinating, The Poison Eaters will almost certainly inspire readers to look at food labels, question what goes into the products they're consuming, pay attention to news stories about drug companies and, most importantly, they will come away knowing the man behind all the protections we enjoy today. --Jen Forbus, freelancer