Rewild Yourself: Making Nature More Visible in Our Lives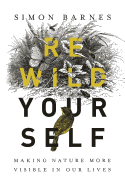 With the premise that people have stopped paying attention to the environment, former chief sportswriter for the Times of London and avid amateur naturalist Simon Barnes has written a magical and lyrical guidebook for the average layperson to use when reconnecting with the natural world around them. Rewild Yourself: Making Nature More Visible in Our Lives draws upon the inspiration of nature-heavy fantasies such as C.S. Lewis's Chronicles of Narnia and J.K. Rowling's Harry Potter series to create magical allegories that encourage openness to the wonders of the natural world.
In the tradition of Thoreau's Walden, Aldo Leopold's A Sand County Almanac and the nature-based writings of E.B. White, among others, Rewild Yourself offers charming nature vignettes that reveal the hidden world of plants, insects and animals for the casual observer. Animal tracks across the snow tell "the story of the hungry fox and the hare that lived," while several chapters dive deeply into bird life (Barnes's expertise on that topic was illustrated in his 2018 book, The Meaning of Birds). Some gear recommendations--"A good pair of binoculars is like being teleported across the intervening space"--are sprinkled throughout, and little exercises that test the senses are perfect for all ages. There is also a list of further reading that informed the author's nature awareness (like The Jungle Book by Rudyard Kipling and My Family and Other Animals by Gerald Durrell). Flowery and metaphorical language provide a quick and engaging read for anyone looking to rediscover and explore what nature has to offer. --BrocheAroe Fabian, owner, River Dog Book Co., Beaver Dam, Wis.