Murder in the Balcony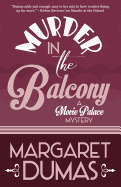 This outstanding second novel in the Movie Palace mystery series from Margaret Dumas can easily be read on its own, but readers will surely want to read the first, Murder at the Palace, as well. Screenwriter Nora Paige fled scandal, the paparazzi and the gossip-driven environs of Los Angeles after her famous actor husband left her for an equally famous actress. Nora headed north, where she's now the manager of the Palace, a historic San Francisco movie theater. She loves classic movies and has grown equally to adore the aging, beautiful theater and its staff, including the ghost of a 1937 usherette who only Nora can see. When a young employee's boyfriend is killed in an apparent robbery, Nora doesn't suspect his death is connected to the Palace. Nevertheless, she sets out to learn the truth about the murder to ease her employee's grieving heart.
She's shocked when her investigation leads to disturbing information about the dead man and his possible connection to a smarmy local real estate developer. Apparently, there are clandestine plans to buy out the businesses on her block and tear down the buildings, including Nora's beloved theater. Just when she's convinced that she's uncovered the villain, another person dies under suspicious circumstances. Is it possible the theater's resident ghost can eavesdrop on suspects and uncover the murderer, or will Nora be next on the list of victims?
Wonderful, warm and engaging characters inhabit this excellent mystery set in modern-day San Francisco. The plot moves along at a swift pace, an intriguing romantic element raises the stakes, and witty postings from a classic movie critic's insightful blog add to the book's charm. --Lois Faye Dyer, writer and reviewer