Meg Cabot and Cara McGee Discuss Black Canary: Ignite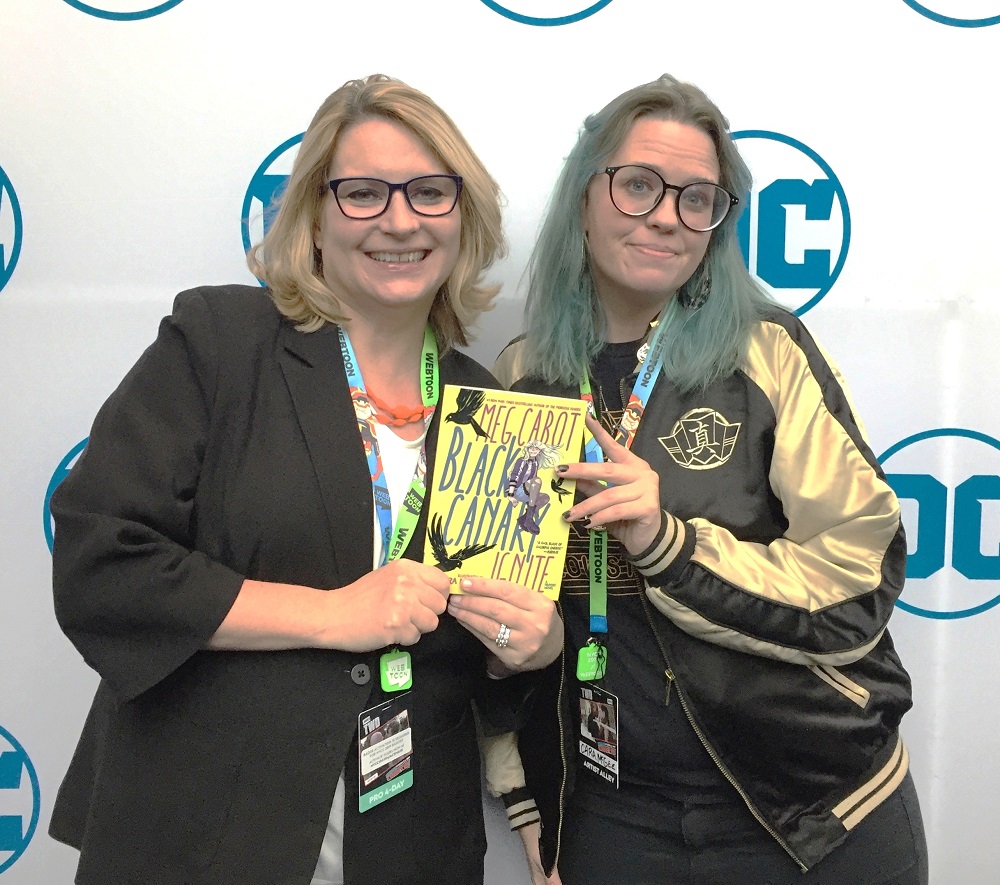 Meg Cabot (l.) and Cara McGee
Black Canary: Ignite (DC Zoom, $9.99), in which 13-year-old Dinah Lance discovers her superpower, is author Meg Cabot's first graphic novel and illustrator Cara McGee's middle-grade debut.
Meg Cabot has written such titles as No Judgments and The Boy Is Back. Her books for adults, teens and tweens have sold more than 25 million copies worldwide. Cabot was born in Indiana in the Chinese astrological year of the Fire Horse, a notoriously unlucky sign, but has been working hard ever since to give herself a happy ending. She lives in Key West, Fla., with her husband.
Cara McGee is a BFA graduate of the Savannah College of Art and Design sequential art program. She has worked on a number of personal mini comics, as well as comics, covers and illustrations for companies like BOOM!, DC Comics, IDW and Cards Against Humanity. She lives in the woods in the middle of nowhere and travels as much as her schedule allows.
This is your first graphic novel, Meg--how did you feel about the switch?
Cabot: I heard that DC was looking for writers to launch a line for younger readers (specifically to get more heroines), and I was very interested. I went through their back catalogue to find a superheroine that I could relate to. Black Canary popped out at me right away because I loved that her only superpower was her voice. I've always been told that I'm way too loud. Even in school, I would get yelled at for being so loud. Then I found out what you actually have to do, and it was so much work. But then it was amazing because I started getting Cara's drawings and it was very much a collaborative effort. All the stuff that I didn't put into [my descriptions of] the panels! [Cara drew] all of the emotions, all of the costuming, I mean everything.... Those choices were all Cara.
On that note, one of the things I liked in particular was the punk cheerleader.
McGee: Yeah, I was really trying to make her tomboy-ish but still a cheerleader. I was actually on cheer when I was in middle school, but I was very much the shy, quiet one. Pretty much, Dinah and her friends are everybody I thought was cool in middle school, so I really had fun with that. It was like trying to emulate what I wish I could have been like in middle school.
What was the process of writing and getting illustrations like?
Cabot: I feel like I started seeing illustrations pretty quickly. And then... so much of it was the fashion. We were trying to take this character who is traditionally hyper-sexualized and turn her into a middle-schooler. And so much of that was on Cara--it was all on Cara. Because I had no idea. She's the artist.
McGee: Apparently, there were some other artists who had tried out for the book, and a lot of them were having trouble making Dinah actually look like a young adult. I was kind of surprised I was able to get it because I don't generally draw characters quite that young. But it was a fun challenge. Especially trying to figure out how to make an age-appropriate costume for a character like Black Canary.
Cabot: But still make her look like Black Canary. I know that you said that you wanted to be able to see kids dress up like her once this book comes out. I think you did such a great job. She still has the fishnets.
McGee: Yeah, she has the fishnets, the boots....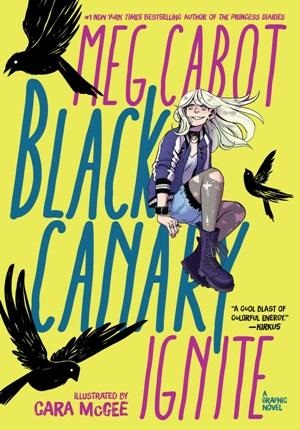 Cara, when creating the costume, how much feedback did you receive from DC?
McGee: Not much, honestly.
Cabot: Probably because I liked it. You would've gotten feedback if I hadn't liked it.
McGee: Yeah, exactly. It was interesting.
She definitely looks like a middle-schooler.
Cabot: Yeah! And that's an outfit that a middle-schooler can put together, if they can get their hands on a bomber jacket. But Cara kind of made it so they don't have to. But, also, I didn't even know what cosplay was until Cara brought it up. And then I thought, "Oh my God, she's so smart! I'm so glad she's my artist!"
McGee: It's a trend with artists lately, even on the new line of books. Pretty much starting with Spider-Gwen. Robbi [Rodriguez] designed her specifically to be a cool cosplay. My generation of comic nerds grew up with cosplay as part of our normal convention life, and we know the struggle of trying to put together a costume and how cost prohibitive it can be for a 13-year-old. If she can just go buy all this stuff at the mall, it would be super easy to be a superhero. My weakness is seeing kids in cosplay.
How were you able to make sound visual?
McGee: It's hard. I want to credit the letterer, Clayton Cowells. He did such a good job, because how do you draw something audible? It's really hard and the lettering plays such an important part. He really killed it. I think visually one of the best ways to do it is to not draw what's happening with her but draw what's happening to whatever she's yelling at--not so much the cause but the effect.
Is there anything you'd like to tell readers?
Cabot: First and foremost, we want them to enjoy it. What I always loved about comics is that they were entertaining, and they took you out of your real world and they gave you some moments to escape. Secondly, we've been saying that Dinah's a character who is discovering who she is. She's trying things out and failing at them but she keeps getting up and she keeps trying. So that's something I think is really important: it's okay to fail so long as you keep getting up and trying again. --Siân Gaetano, children's and YA editor, Shelf Awareness