Carrie Fisher: A Life on the Edge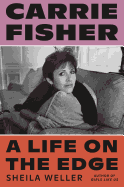 From her stage show and subsequent book Wishful Drinking, Carrie Fisher was known for her comic observations about the trials of being the offspring of flamboyant actress Debbie Reynolds and caddish crooner Eddie Fisher; about sealing her fate (for better or worse) and fortunes (for better) as brainy badass Princess Leia in 1977's Star Wars; and about coping with drug addiction and bipolar disorder. Given Fisher's openness about her life, any Carrie Fisher biographer would have a galactic challenge: What can she tell readers that Fisher hasn't already?
Lots, if that biographer is Sheila Weller (Girls Like Us). She cast a net far and wide to land interviews with subjects famous and not, speaking on the record and off, but Fisher defenders nearly all. In Carrie Fisher, Weller blends their recollections with what she calls Fisher's "provocative, braggingly self-deprecating (a neat trick), honest enough" accounts. The result is a robust, many-faceted portrait of a woman whose longstanding feminism (Fisher marched for the Equal Rights Amendment in the 1980s) elevated everything she touched and who left a powerful legacy after her sudden death at age 60 in 2016. The cause was cardiac arrest with a likely assist from the drugs named in her toxicology report--a heartbreaking exit, given her decades devoted to exorcising her personal demons.
The question while reading Carrie Fisher isn't "How did her life veer off course?" but "How did she keep it together for so long?" The answer would seem to lie in Fisher's mutual emotional support system. Going by the company described in Weller's book, it would probably be quicker to list the people who weren't Fisher's friends than the people who were. --Nell Beram, author and freelance writer