Weeknight Baking: Recipes to Fit Your Schedule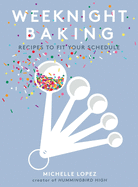 Baking is Michelle Lopez's stress-reliever. In college, she whipped up cupcakes instead of studying. As a financial tech executive, Lopez spent evenings creating confections like Better-Than-Supernatural Fudge Brownies and Magic Dream Lemon Cream Tarts. She shared her concoctions with the readers of her blog, Hummingbird High, twice named by Saveur as a "Best Baking Blog" finalist.
In Weeknight Baking, Lopez shares time-saving secrets, suggested staples, substitutions and tested strategies for turning out decadent treats. Featuring more than 80 recipes (including some that are gluten-free, vegan or both) for cookies, cakes, brownies, pies, muffins and more, Lopez's approach is easy to follow. For more time-intensive recipes--white wedding cake, anyone?--Lopez uses her analytic business skills to split the steps into 30-minute-or-less increments over several days for "a damn good dessert any night of the week you want one." --Melissa Firman, writer, editor and blogger at melissafirman.com.