Provence: The Cookbook: Recipes from the French Mediterranean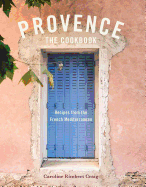 In Provence, Caroline Rimbert Craig's first solo cookbook, she plumbs her own family history in the French Mediterranean, showcasing the food and flavors of Provençal cooking. Beyond offering a collection of recipes, Craig weaves together the history of Provence's landscape, kitchen staples and stories from her generations of family who have foraged, gardened and cooked there--all accompanied by charming photographs of food and the Provence countryside taken by Susan Bell.
She lays out the recipes seasonally, with a special chapter just for Christmas, and arranges them in suggested groupings for families sitting down to a meal. While all the dishes are made with fresh Provençal ingredients, Craig encourages, "I hope you will use this book as a guide, make the recipes your own, and put your own stamp on dishes you cook from it." --BrocheAroe Fabian, owner, River Dog Book Co., Beaver Dam, Wis.