Bake from Scratch (Vol. 3): Artisan Recipes for the Home Baker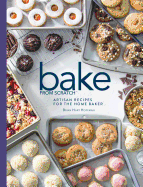 This massive compilation of recipes from the editor of Bake from Scratch magazine is chock full of amazing baked goods, including Strawberry Basil Scones, Nutella Banana Bread and Boozy Fig & Muscadine Tartlets. Each recipe is clearly delineated in both weights (grams) and measurements (cups), making it easy to use either method. Mouthwatering pictures of every recipe are also included, covering cakes, croissants, cookies, tarts, pies and pizza.
With sweet and savory items ranging from easy (like Oatmeal Chocolate Chip Cookie Bars) to harder (Baked Alaska), Bake from Scratch offers recipes for every baking level, and is sure to appeal to those wanting to attempt their own Great British Bake Off-type experiences at home. The cookie section alone continues for more than 100 pages, enough to keep any baker busy for a good long while! --Jessica Howard, bookseller at Bookmans, Tucson, Ariz.