The Bromance Book Club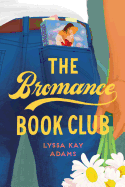 It takes two people to fall in love, but it also "takes two people to ruin a relationship." Such is the case for Gavin Scott--a second baseman for the Nashville Legends baseball team, who suffers from a stuttering problem--and his loyal, devoted wife, Thea, the mother of their young twin girls. The couple married when Thea became pregnant. What started as a happy union settled, over time, into a sexless routine as "the daily necessities of dealing with the kids and the house and his game schedule" wore down their relationship.
When Gavin learns that Thea's been faking it in their marital bed for years, the revelation pits them against each other, resurrecting more truths and slights, until their faltering marriage comes completely undone. Gavin seeks the support of his friends, a group that meets covertly to eat, drink and discuss Regency romance novels. They refer to these books set in 18th- and 19th-century England as "manuals" that coach them in their romantic dealings with their partners and spouses.
The Bromance Book Club is the opening installment of a fun and funny, sports-related romance series. It unspools a dual-threaded narrative that juxtaposes Gavin and Thea's story alongside that of a Regency countess and her knight in shining armor. Through a series of clever, entertaining plot twists and striking parallels in the relationships of both couples, centuries apart, Lyssa Kay Adams (The Prospect) depicts how love--and the complications and ecstasies therein--never really changes or goes out of style. --Kathleen Gerard, blogger at Reading Between the Lines