The Book of Forgotten Authors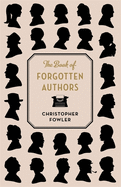 "Absence doesn't make the heart grow fonder. It makes people think you're dead," begins Christopher Fowler's The Book of Forgotten Authors. It is a journey through once-popular literature that has, for one reason or another, disappeared from print, memory or both. Authors can be "ubiquitous, influential and massively successful only to disappear within their own lifetimes," but why?
Pamela Branch, compared favorably with Evelyn Waugh by critics of the time, wrote what Fowler calls "bizarre, deliciously funny" mysteries, but died young. Well-loved children's author Sheila Hodgetts's books, which contained "the full panoply of fairy tale tropes," possibly lacked sticking power because they did not have the merchandising and licensing opportunities of others. Charles Hamilton "was one of the most prolific authors in history, but hardly any of his books can now be found," both because he used so many pen names and because his schoolboy adventure stories, though popular at publication, did not age well.
Mystery author Christopher Fowler (Bryant & May: Strange Tide) has turned his own life-long love of books into a literary monument to forgotten authors. Though his focus is limited mostly to white British and American writers, he addresses minority authors (along with a plea for greater diversity in publishing) and a historical lack of non-English translations in his notes on the choices he made. Fowler's literary guidebook covers 100 individual authors across a broad spectrum of genres and includes 14 additional essays, such as "The Forgotten Rivals of Holmes, Bond and Miss Marple," which are delightful dissections of why some authors succeeded while others have vanished. Bibliophiles wishing to discover "new" authors will appreciate the easily digestible sections and conversational tone. --Jennifer Oleinik, freelance writer and editor