Rising: Becoming the First North American Woman on Everest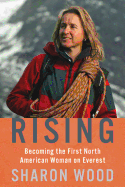 For more than three decades, Sharon Wood has been a professional speaker, thanks to one single achievement: in 1986, she became the first North American woman to climb to the top of Mount Everest. While she has had other accomplishments over the years, including being a business owner, an internationally certified alpine guide and the first recipient of the Explorers Club's Tenzing Norgay Award for exceptional mountaineering, she has resisted writing a book about her Everest experience, until now. In Rising: Becoming the First North American Woman on Everest, an older and perhaps wiser Wood uses the mountain as a backdrop for discussing emotional growth and examining the value of relationships--"my relationship with myself, with some remarkable people and with the world around me."
Rising strikes a nice balance between the technical aspects of climbing and the emotional story, giving context and definitions for mountaineering jargon throughout the driving narrative. Wood weaves together her own Everest journey when she was young, focused and driven, with the dramas that can occur in small communities, such as her ex-boyfriend and his new girlfriend showing up during her Everest attempt as competitors on the opposing team. "Climbing Everest reveals the best and the worst of the human condition," Wood writes in the introduction. "The story I have told... conveys the former: a story of exceptional teamwork and the impact it has had on my life." Written lyrically about the harsh natural environment and with unflinching candor about personal growth, Rising illustrates how social connections and support systems--essentially relationships of all kinds--can have lingering effects and shape the path to success. --BrocheAroe Fabian, owner, River Dog Book Co., Beaver Dam, Wis.