Fry Bread: A Native American Family Story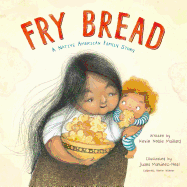 While Fry Bread: A Native American Family Story is recommended for audiences ages three to six, it's undoubtedly a book that will last on shelves well into readers' double digits. Kevin Noble Maillard--co-editor of Loving v. Virginia in a Post-Racial World, Syracuse University law professor and a member of the Seminole Nation, Mekusukey band--has effectively written two books for multiple age groups.
The first two-thirds is an affecting picture book that features family and friends gathering, creating and enjoying fry bread together. Glorious double-page spreads introduced by pithy, resonating phrases define the Native American staple: "FRY BREAD IS FOOD," "FRY BREAD IS COLOR," "FRY BREAD IS HISTORY." Caldecott honoree and Pura Belpré-awarded illustrator Juana Martinez-Neal's (Alma and How She Got Her Name) artistry revels in the faces: the children's hungry delight at the "light like snow and cream/ Warm like rays and sun" results; the adults' joy in "moments together." Maillard's text readily convinces that "FRY BREAD IS US," as "we strengthen each other/ To learn, change, and survive."
Then comes book two, which augments the simple, sincere verses with illuminating edification for older readers. Maillard's expansive author's note follows across nine pages, amplifying every descriptive "Fry bread is..." phrase with context, background, history and personal tidbits. Insisting on inclusive recognition, Maillard gives "voice to the Indigenous nations and communities within the United States" by including tribe names across the endpapers. Remarkable in balancing the shared delights of extended family with onerous ancestral legacy, Maillard both celebrates and bears witness to his no-single-recipe-fits-all community. --Terry Hong, Smithsonian BookDragon