What I Lick Before Your Face and Other Haikus by Dogs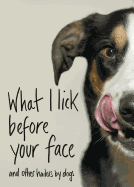 "Who's a good human? Come on, who is it?" While he doesn't exactly parody the common inane question humans pose, Jamie Coleman (Please Stop Touching Me... and Other Haiku by Cats) does metaphorically point the paw at the indignities our best friends endure, by channeling 64 haiku "written" by poetic canines.
A number of entries are scatological ("The definition/ Of friendship must surely be/ You, a bag, my poop"), with recurring themes around walkies (and the "harness of oppression") and consumption: grass, shoes, maybe sausages, drinks from that big white bowl. Canines are philosophical. A woeful bloodhound addresses the "Good Boy" question: "I no longer know/ If you are being genuine/ Or rhetorical." Each entry includes a portrait-quality photo of the poet, and while some may be snippy, most poems reflect the loving bond between dog and human. --Cheryl Krocker McKeon, bookseller, Book Passage, San Francisco, Calif.