Airline Maps: A Century of Art and Design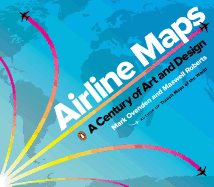 Mark Ovenden, author of Transit Maps of the World, has teamed up with Maxwell Roberts to create Airline Maps: A Century of Art and Design. This beautiful book, filled with images of vintage airline maps starting as early as 1919, showcases how the expanding world of flight led to the evolution of maps over the century.
From their outset, these maps were almost art deco posters in their own right; they became even more color-saturated in the 1950s and 1960s, and then gradually more streamlined as the decades passed. Various airlines chose to highlight differing aspects: cultural icons from their landing places, distorted versions of maps to make destinations look closer, and technical details about the planes on which customers would travel.
Sure to please armchair globetrotters and graphic designers alike, Airline Maps is a fascinating book to explore. --Jessica Howard, bookseller at Bookmans, Tucson, Ariz.